Customised lenses for driving make driving not only more relaxing, but also increase safety significantly.
Driving is one of the most dangerous tasks people perform. Our eyes are called on to do some 'heavy lifting': seeing in poor light, blinding sunlight, fog or on wet or reflective roads – not to forget the many other road users, signs and information they have to note.
Depth perception, ability to distinguish colour, and peripheral vision, are all worse in low-light conditions. Xenon headlights are becoming more common. They are brighter than conventional halogen headlights. This benefits the driver but can be problematic for people driving oncoming vehicles.
Having the right glasses is therefore critical especially if you are a professional driver or someone who is having difficulty driving in poor light conditions. Night Glare is a real problem for lorry driver, taxi drivers and bus drivers.
Glare when driving can be more than just a burden, it can be dangerous.
What can be done to help?
Firstly if you are suffering with glare or difficulty driving at night you need to have an up to date Eye Examination with an Optometrist. Our Optometrists at Redgate Opticians are all trained in diagnosing the underlying eye problems that can cause glare, such as the need for glasses, or cataract.
To book a FREE eye examination please click here.
Practical solutions: Dim dashboard lights to avoid reflections and having to adjust your eyes from the dark road. Keep windscreens and mirrors clean and turn your gaze away from the glare of on-coming headlights.
Frames: The frame fitting is important to ensure secure fitting glasses that will not slip down your nose and become displaced with sudden head movements.
Lens type and finish: It's important that we select the right type of lens and position it correctly in the frame. Modern technology allows our labs to place a microscopic coating to lenses which alters the way light passes through the lens. We can use this technology to reduce glare and reflections by up to 90%.
The Lenses designed for Drivers
Zeiss Drivesafe Lenses
Safer and more

relaxed driving even in difficult conditions.

Specifically designed to meet the visual needs of spectacle wearers who want to feel safer and more comfortable when driving.

Ideal for both everyday use and driving.

Enhanced vision in low-light driving conditions.

Reduced glare at night from oncoming cars and street lights by up to 64%

Accurate vision of the road, dashboard and mirrors.
Essilor RoadPilot Lenses : Paired with Crizal Drive anti-reflective coating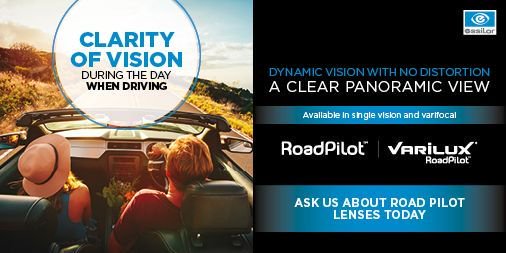 Up to 90% less reflections at night

, leading to a decrease in glare.

Optimal clarity of vision during the day and night.

A larger, more enhanced field of vision for varifocal wearers.

Complete protection against scratches, smudges, dust, water, harmful UV and blue-violet light.